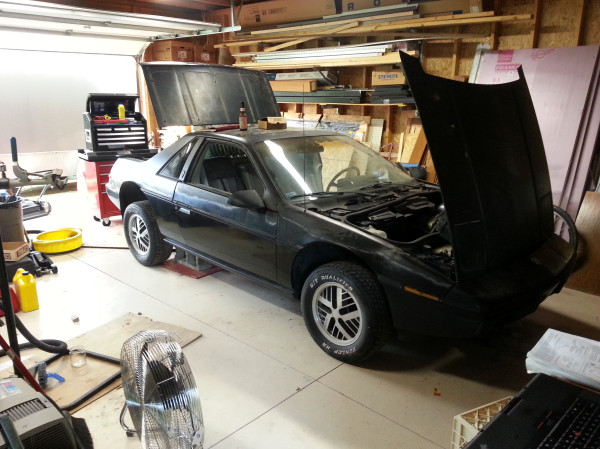 Some years ago my grandfather gave me an old Pontiac Fiero that had been sitting dormant for nearly twenty years. No precautions were taken to store or preserve it; it just sat outside in the elements with an undiagnosed engine problem keeping it from being moved. Once it was towed to my parents place, it sat in a garage for some years as I wondered where to begin with such a project. There where many obvious problems, and a lot needing fixing, from weathered and faded paint,and a broken windshield, to ancient gasoline in the tank, and the unknown engine problem. As I neared the end of earning a bachelors degree in Mechanical Engineering, I began to take the project much more seriously. Last summer I jumped right in and started by cleaning out the fuel system.
Starting with the basics, I turned over the engine by hand to make sure nothing was seized up. Next, I changed the fuel filter, as well as the oil and battery, which predictably did almost nothing; the engine turned over just fine but wouldn't start. So, I jacked the whole car up and dropped the gas tank; which, by the way, was atrocious on the inside. After disposing of what was surely no longer gasoline, I hosed it out with a gallon of industrial degreaser . Followed by a good soaking with muriatic acid. I also tried using phosphoric acid, since the tank flash rusted shortly after the first cleaning. In my opinion it's not really worth the fuss, the tank still flash rusted, and I don't really like playing with strong chemicals. Now that it was clean I painted it and replaced the fuel pump ,and assorted rubber parts that had turned to goo.
Before and after pictures of the inside of the gas tank.
Before and after pictures of the fuel sender.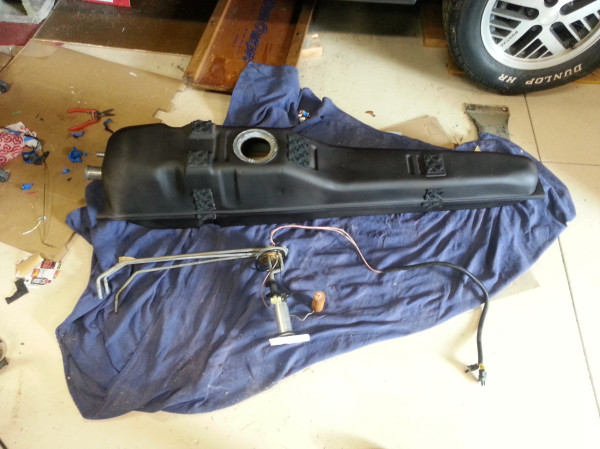 The finished fuel tank and fuel sender.
Now surely, I though, I should get something out of the engine; and I did. What I got was what sounded like an extremely rough idle before eventually stalling. Now I was getting somewhere. Following the advice of a friend I picked up a cheap compression tester, and tested the cylinders one by one. The fourth cylinder I tested had no compression. Next step: Engine Surgery. I popped off the valve cover, and voila! A jammed valve and a snapped pushrod. From what I can gather it seems an excess amount of carbon propped the valve in an open position. Then, with no force acting on the rocker arm to keep the pushrod seated it moved out of place, the rod jammed against it, buckled, and snapped in two.
What I found under the valve cover (left), and the broken pushrod (right).
At this point I was pretty enthused, I finally had an excuse to rebuild a sizable part of an engine.  So I pulled off the cylinder head, and tore it down until it was bare. Then I packed it all up and cleaned everything in a chemical wash basin after hours at work. I honed all the valves, and replaced the one that had jammed. I took some time while everything was apart to paint the pushrod and valve covers fire-engine red with some spray on engine enamel.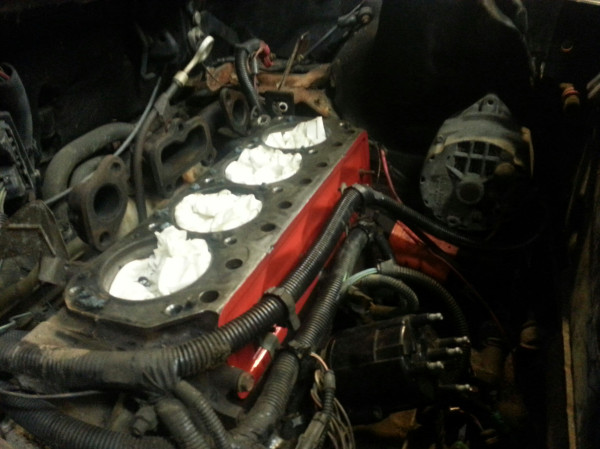 By the time I got the head reattached, my dodge blew and intake manifold gasket, and since nothing can ever be easy on a Chrysler product, I spent the rest of what was left that summer dealing with repairs on my truck. Ultimately, I ended up getting it running well enough to trade in toward my Forester with 40,000 more miles and ten times the reliability. And so now I eagerly await this coming summer when I can finish reassembling the engine and test out the Fiero.